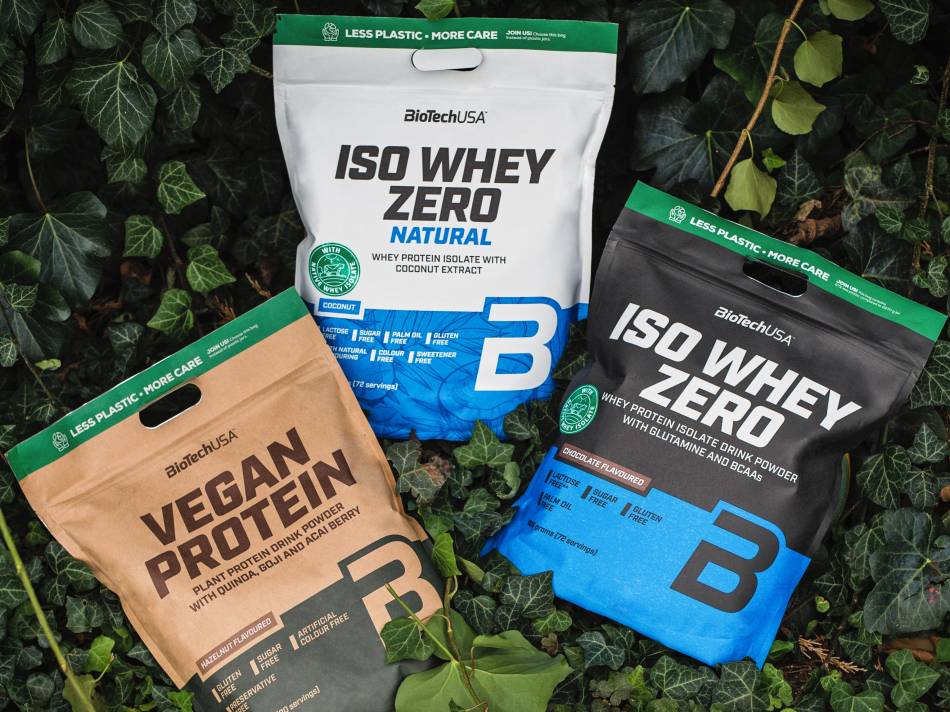 Green Fitness: 5 things to do with your old protein tubs!
Added:
January 19, 2021
12:00 am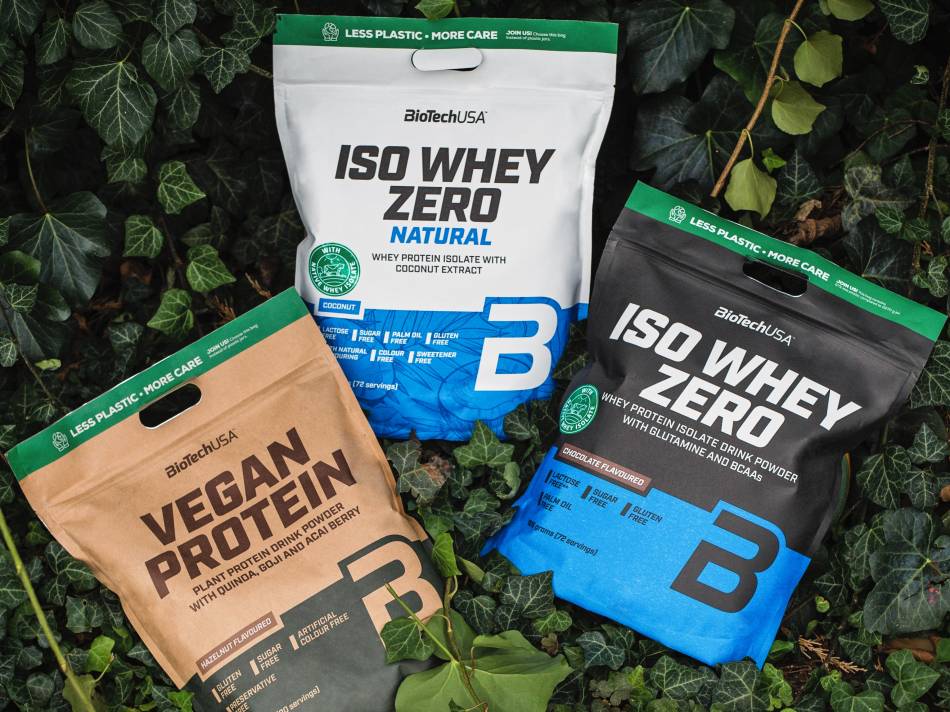 We are committed to, not only help you reach the best version of yourself, but also help you make responsible choices for the environment you live in. That is why, here at BioTechUSA, since 2019 we have launched the "Less plastic, more care" initiative, which aims to reduce the amount of plastic disposed from all the fitness supplements tubs that are consumed in the industry.
Besides conscious eating, we also offer an alternative to conscious shopping!
We have started by taking small actions for a more sustainable environment, like re-defining our packaging for our most popular products (Iso Whey Zero, Vegan Protein) and encouraging you to recycle your old tubs into something that can be useful at home. In this article we give you 5 ideas on how you can re-use your old protein containers and give them a second purpose at home without disposing them.
1. Store dried goods / pet food
These tubs are meant for storage, why getting rid of them right after their first use instead of using them to store some more stuff? Buying foods in bulk is not rare in the fitness industry, mostly thanks to the regular diets eating every day the same, usually with foods that could be stored for months: Rice, pasta, lentils, beans, oats, almonds, nuts and many others! You can make one for each of these, and even one for your pet food! Buying these foods in bulk will also help you save some money!
Steps:
Remove the label and clean the residual glue with alcohol and a clean "work" towel

Wash your protein container, and its measuring cup/spoon thoroughly and let dry.

Use waterproof markers of labeling stickers to name your tubs.

Add your food from the big sack and put the measuring cup/spoon on top, you can use it to take out your food just like you did with your protein.

Put the rest of the big sack in the garage or the pantry.

Refill your food when it is over and continue reusing this protein jar as many times as you want, giving this plastic a long life!

2. Store kids' toys / stuff in them
Moms and dads will understand this one: Little action figures, Lego blocks, cars, Barbie clothes… everything is everywhere! It is not rare for parents to get containers to store their children's toys so it is not a hazard to simply walk around the house. This is easily solvable by re-using your protein tubs, which you can use for all the small toys or even all their arts and crafts materials. Make this a project to get the family and the children involved!
Steps:
Remove the label and clean the residual glue with alcohol and a clean "work" towel

Wash your protein container and let dry.

Get all the arts and crafts materials handy

Sit down with your children and decorate the containers with them.

Get as creative as you'd like! You can paint the jars, use stickers, markers, glitter and anything you want.

3. Store plastic bags
It is hard to believe that people spend money buying something to store their plastic bags… but they do! Although we support reusing plastic bags as many times as possible, you do not need to spend money for it, you can easily turn your protein tub into a handy and convenient plastic bag container.
Steps:
Wash your protein container and let dry

Use a ruler to find the middle of the cap and mark it

Draw a circle with a 2 or 3cm radius from the middle spot (or a 5-6cm diameter) and cut it off. Just make sure the size is okay for you to put just fingers in and easily grab a plastic bag from it.

Collect all the spare plastic bags and place them inside. For a more organized container, we'd recommended folding them for easier storage.
Note: You can follow the same steps to make a little trash bin that you can keep on your kitchen counter to put all the organic residues while you are cooking. Just remove the lid, place a plastic bag inside with the edges over the top of the container, and secure it placing the lid back. While cooking you can easily put all the organic waste through the hole on the top, and then remove the lid, seal the bag, and take it outside to your big organic trash container. This way you'll never have big smelly trash bins at home.
4. Use as plant holders
What a greener way to reuse your plastic protein tubs than turning them into plant holders? This is an easy and fast idea for you to decorate your balcony or your apartment with some plants, without having to buy additional plant pots. You can even expand your fitness journey by growing some of your food at home! Some plants, herbs and spices you could grow in your own balcony are: Basil, oregano, parsley, rosemary, chives, thyme, sage, mint… and the list expands if you have a garden at home.
Steps:
Remove the label and clean the residual glue with alcohol and a clean "work" towel

Wash your protein container thoroughly and let dry.

Poke several holes at the bottom for drainage

Cut out the top of the container to obtain a bucket-like recipient.

Fill with soil or potting mix

Plant your seeds and don't forget to water them

5. Make a piggy bank
As you'll be saving some money from buying some foods in bulk and even growing your own greens and spices at home, there might be some extra cash hanging around in the house. So why not saving it for some rewards you can give yourself for accomplishing your fitness goals?
Steps:
Remove the label and clean the residual glue with alcohol and a clean "work" towel.

Wash your protein container thoroughly and let dry.

With a pair of scissors, cut a coin slot in the middle of the container's lid. Preferably, glue the lid to the jar so no money will be taken out before time.

Decorate your piggy bank however you want. You can use pink paint, add some cardboard ears and draw eyes and a piggy tail on it.

Set the fitness goal you want to accomplish. For example "If I go to the gym at least 3 times a week for 2 months, I'll use this money for a nice reward dinner", or "If I reach my goal body weight in 6 months, this money will be to book my plane ticket for a beach holiday". Then you just need to constantly put some savings in it, and you'll have an extra motivation to accomplish your goals. Remember that rewarding yourself is as important as the work you put into your fitness journey.

6. EXTRA TIP! Refill with more protein
As we are encouraging you to reuse our protein containers, we'd like to do our part too! We have created a refill pack that includes 1 Iso Whey Zero 2270g, which comes in a traditional plastic container, and 2 additional bags of 1816g, which are a paper based green alternative in a packaging with 87% less plastic (compared to the 2270g tubs). This way, from now on you can always get the alternative with less plastic and refill your container at home!
It might seem a small step but based on our sales numbers, if you buy the bag packaging, we can protect our environment from 111 tons of plastic in one year. And that's only the beginning – we continuously expand the range of our specially packaged products, and our shops provide paper bags with the purchases.
Join us in our mission for a greener fitness industry! See other BioTechUSA products in a packaging with less plastic, available here.