Zero lactose
Zero Gluten
With Native Whey
Zero Aspartame
Zero Coating
High Fibre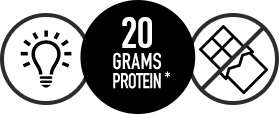 Average protein content in the chocolate flavoured versions. The average protein content of cappuccino, lemon-basil and raspberry cheesecake flavoured versions is 45%.

It contains naturally occurring sugars. The photos are only an illustration, the products may be different in packaging, colour and size.
A PROTEIN BAR, PLEASE! BUT NO SUGAR!
Do you like protein bars? Have you tried all the protein bars available on the market and you think there can't be anything new out there? Then it's time you learnt more about your new best friend, Zero Bar protein bar. It is totally sugar-free, available in nice, delicious flavours, and you can enjoy it even if you are sensitive to lactose or gluten.
CHOCOLATE VS. PROTEIN BAR
Besides all of its benefits, Zero Bar also makes a perfect snack! Its high protein and low carbohydrate content makes it attractive to those on a diet, since in order to losemweight,myou need to take in proteins in adequate amounts and quality. Unlike other protein bars, it's not covered with a coating that contains unnecessary calories; in return, it hasmcrunchy protein textures.